An italian company
dal 1967... RUMORI IN CUCINA
AN ITALIAN FAMILY COMPANY..SINCE 3 GENERATIONS
In the heart of Aosta, a small mountain town at the foot of the majestic Mont Blanc mountain range, Colella was born in 1967.
Its founder, Carmine Colella, creates the first cross-border reference point for the distribution of professionally manufactured slicers and kitchen utensils.
The company focus in the first 40 years was centered on the design of kitchens, shop furnishings and the distribution of kitchen equipment in the Ho.Re.Ca sector. in Italy, France and Switzerland.
Since 2000, the specialization in consultancy acquired in the business sector has been transferred to the domestic sector with the consequent distribution of Colella own-brand products as well as all the professional quality kitchen utensils and equipment previously selected in over 30 countries., in over 30 countries.
CORE BUSINESS
PRACTICALITY OF USE AND PROFESSIONAL QUALITY
The company's core business is focused on the distribution and direct sale to the end customer of slicers – electric and mechanical – produced by Colella of the renowned Berkel brand for which the company officially distributes – and kitchen utensils, made in Italy and of professional quality, which due to their small size and practicality of use can be used in the home kitchen .
GOLD DUST
The restoration of flywheel slicers and original Berkel period scales, unique hand-operated collector's items. The restoration is meticulously carried out under the supervision of the owner, a passionate collector.
IDENTITY, a value that is handed down
FROM PRODUCTION TO THE REFERENCE MARKET
The values of the family business have been transferred to the careful selection of brands with due attention and respect in the use of certified and nationally processed raw materials. The criteria of authenticity in the production approach that aligns with the corporate identity are still the beacon that guides the choices of approach to the reference market that can appreciate the added value, the research and the passion that derives from it.
"Un giorno senza curiosità è un'occasione persa"
(Carmine Colella, Salone Internazionale delle Arti Domestiche, Torino Esposizioni, 1967)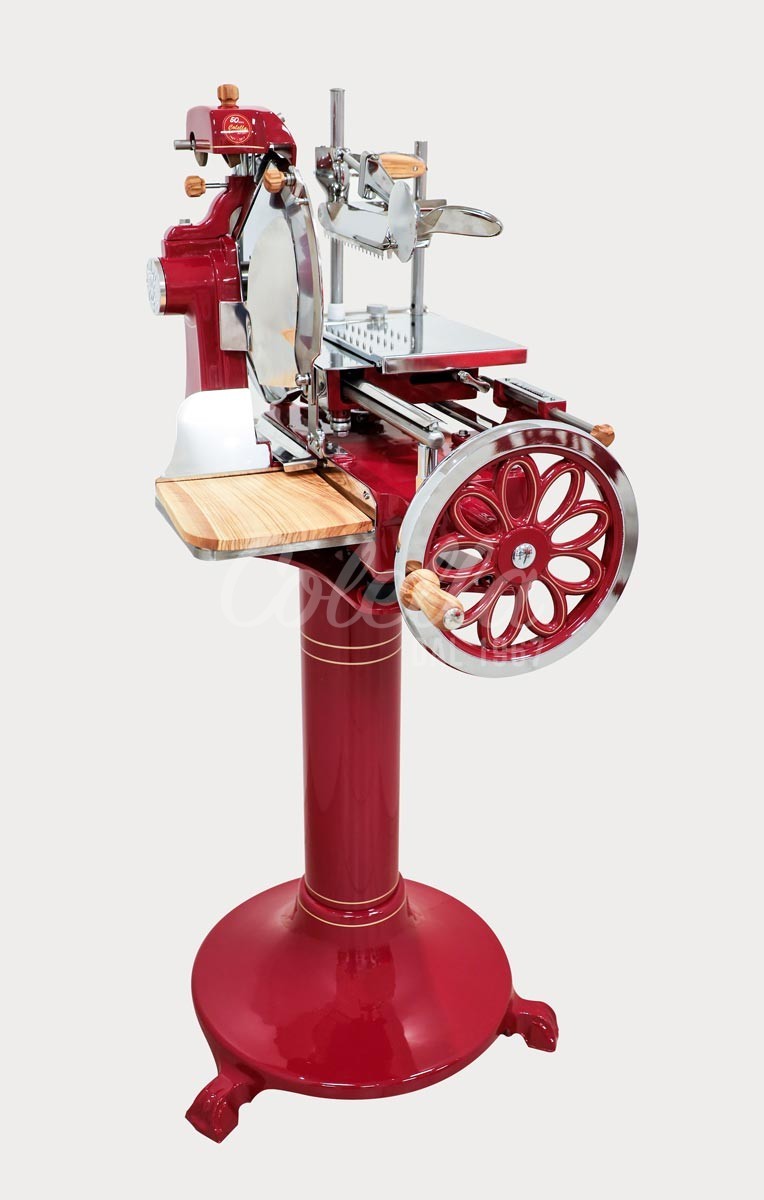 Colella selection
WHAT WOULD YOU LIKE TO FIND?
To offer you the best orientation experience and choice among the products of the Colella selection, it is useful to understand what your needs are in terms of space, functionality and intensity of use. Don't hesitate to ask…the site presents only a small selection of Rumori in Cucina world.
DURABLE IS SUSTAINABLE
Unlike mass-market distribution and planned obsolescence which characterizes products, for example in the technological sector, for obvious reasons of innovation, the professionally produced material of the Colella Selection has been conceived and designed to last over time. The future is in our hands and sustainability is a responsibility we hold dear.